Building On A Winning Momentum
Gannon University Athletics
Through the years, Gannon University student-athletes have amassed an enviable record of success, both in competition and in the classroom. Adding to and building on that winning tradition are the goals of Gannon Athletics as the University approaches its second century. It's a goal well worth achieving, but like all worthy goals, it contains an element of challenge.
Consider that in the most recent year, 324 Gannon student-athletes earned PSAC Scholar- Athlete accolades, more than at any time on the program's history. Seventeen of 19 eligible Knights teams participated in or qualified for either or both their conference and national postseasons. The University recorded its best Dixon Trophy finish ever and Gannon Athletics earned its first two NCAA Elite 90 Awards, which are presented to the student- athlete with the highest cumulative grade-point average participating at the finals site for each of the NCAA's 90 championships.
That last honor exemplifies the commitment to Gannon Athletics' vision of being recognized as a model Division II program excelling in academics and athletics. But it is only the beginning.
It is no secret that success has a way of leading to even greater success. We invite you to join us in that quest by helping us build an athletics program of uniform excellence, one that will set a lofty standard for achievement, in the classroom as well as in competition.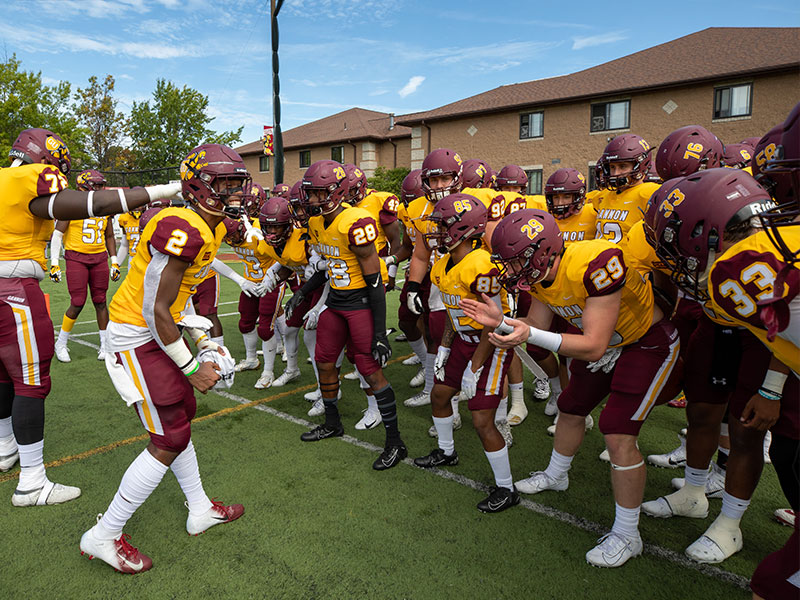 From Director of Athletics Lisa Goddard McGuirk
I want to tell you about something I saw this past December, something I will never forget.
It was at the NCAA Regionals for men's soccer that Gannon University hosted. Because this was Erie in December, it was a cold day at McConnell Family Stadium. Yet there in the stands I was amazed to see members of the men's basketball team all sitting together. I asked one of our student athletes what the team was doing out in the cold on a game day. "We've got to support our Knights," was his answer.
If you're looking for the spirit that makes Gannon athletics so special, that young man's answer is as good as any. The sense of camaraderie and love shown by our nearly 700 student athletes is like nothing else I have ever encountered. It inspires me every day.
The success of our teams and student athletes also inspires me. For the first time, Gannon was among the top 30 in the latest National Association of Collegiate Directors of Athletics Learfield Cup rankings of 161 NCAA Division II programs that measures overall success in men's and women's collegiate sports.
In the highly competitive Pennsylvania State Athletic Conference, Gannon finished sixth among the 17 programs in the Dixon Trophy standings for overall athletic excellence. In their most recent campaigns, men's golf was a top 10 team nationally. Volleyball advanced to the NCAA Division II Elite Eight and men's soccer to the Sweet Sixteen.
Even more inspiring is the academic success that Gannon athletes have achieved. Gannon's 656 student-athletes produced an overall 3.40 grade point average during the Spring 2021 semester, despite the challenges of the COVID-19 outbreak. Nearly 75% of the students playing sports at Gannon achieved a 3.0 GPA or better, 75 of them recorded a perfect 4.0 GPA during the spring semester.
That's a good performance, but one we will only take to new levels. The great thing about excellence is that you can never fully attain it; you're constantly striving for it. And so it is for Gannon athletics: we continually look for ways to better serve and support our student athletes in their commitment to excellence.
That is why we are asking you to join our team and help us to build a national-class standard of excellence for Gannon University athletics that will be an inspiration for future generations of Golden Knights.
We're lifting as we rise.
Together.
Thank you.
Lisa Goddard McGuirk, Director of Athletics
BELIEVE in the future of Athletics
We have a vision for the future of Gannon Athletics.
This vision includes consistently competing for regional titles and beyond in all of our 19 sports.
To achieve this level of success, we will expand out recruiting horizons to attract student-athletes who strive for excellence not only in competition and the classroom, but also in their communities.
We will provide these student-athletes with the best coaching, training and academic support.
To allow them to reach their highest potential, we will assure that they can compete and train in state-of-the-art facilities, which will become a point of pride not only for current and future student-athletes, but also their families, as well the Golden Knights' many loyal fans and supporters.
It all begins with belief. Belief leads to action, and action leads to success. Thanks to your generosity, the future of Gannon Athletics can not only honor our great tradition of winning, but also extend it for the next 100 years.
INSPIRE visionary change
Every day, we tell our student-athletes to dream big dreams, to take bold action. We invite you to do this too.
While every initiative at Gannon University is worthy of support, you can make your mark on the future of Gannon athletics by supporting a program or project that is most important to you.
Whether by an operational or endowment gift, your support of our Believe. Inspire. Transform. Gannon's Next Century campaign really does make a powerful difference in the lives of every athlete who proudly wears the maroon and gold - now and in the future.
Your gift is also an act of leadership and teamwork that encourages others to give to Gannon athletics. Through matching contributions offered by other grantmaking organizations, the impact of your generosity is powerfully leveraged and lifts the efforts of all.
TRANSFORM the Gannon experience
At Gannon University, we believe in the possibilities. As we enter our second century of leadership, the possibilities for Gannon Athletics include:
Enhancements to the façade, exterior and public lobby area at Gannon's Highmark Events Center, formerly known as the Hammermill Center
A new playing surface and upgrades to the scoreboard and press box at McConnell Family Stadium
Construction of dedicated locker rooms at Gannon's Highmark Events Center, McConnell Family Stadium and the Carneval Athletic Pavilion to accommodate Gannon's more than 700 student-athletes
Expanded spring training and scheduling opportunities for warm-weather sports
Support for expanding the geographic footprint of our recruiting efforts
Upgrades to existing aquatic sports facilities at the Carneval Athletic Pavilion
Establishment of a Life Skills/Academic Success Center
Endowed positions for coaches and administrators