Building On A Winning Momentum
Gannon University Athletics
Through the years, Gannon University student-athletes have amassed an enviable record of success, both in competition and in the classroom. Adding to and building on that winning tradition are the goals of Gannon Athletics as the University approaches its second century. It's a goal well worth achieving, but like all worthy goals, it contains an element of challenge.
Consider that in the most recent year, 324 Gannon student-athletes earned PSAC Scholar- Athlete accolades, more than at any time on the program's history. Seventeen of 19 eligible Knights teams participated in or qualified for either or both their conference and national postseasons. The University recorded its best Dixon Trophy finish ever and Gannon Athletics earned its first two NCAA Elite 90 Awards, which are presented to the student- athlete with the highest cumulative grade-point average participating at the finals site for each of the NCAA's 90 championships.
That last honor exemplifies the commitment to Gannon Athletics' vision of being recognized as a model Division II program excelling in academics and athletics. But it is only the beginning.
It is no secret that success has a way of leading to even greater success. We invite you to join us in that quest by helping is build an athletics program of uniform excellence, one that will set a lofty standard for achievement, in the classroom as well as in competition.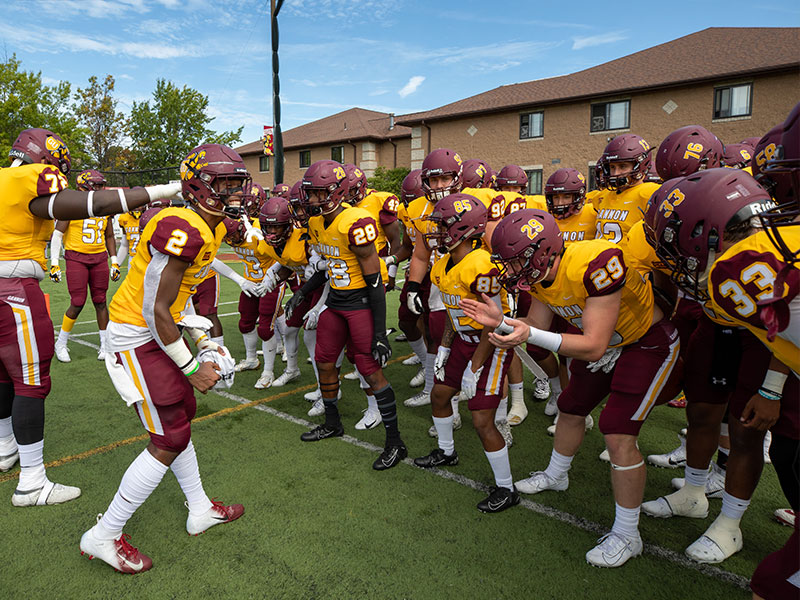 From Director of Athletics Lisa Goddard McGuirk
If athletic competition teaches us anything, it's that the future might be unknowable, but that hard work and a single-minded pursuit of excellence is the key to success.
After all, who could have predicted in 1925 that the fledgling commuter school known as Cathedral College would grow to be a respected university of more than 4,000 students whose athletes will have competed and succeeded at the highest levels?
Here at Gannon University, the momentum is building. Gannon cracked the top 30 in the latest National Association of Collegiate Directors of Athletics Learfield Cup rankings, which measures overall success in both men's and women's collegiate sports in a field of 161 NCAA Division II programs.
That's a good performance, but not one with which we are satisfied. What will it take to have a Top 20 program or even a Top 10 program?
Certainly, we will need outstanding student athletes, exceptional coaches and support staff and the most up-to-date and attractive facilities and sports technologies. There's one more factor that is absolutely critical to achieving the kind of success we envision: the support of people like you.
That is why we are asking you to join our team and help us to build a national-class standard of excellence for Gannon University Athletics that will be an inspiration for future generations of Golden Knights. Together we can do this.
Thank you.
Lisa Goddard McGuirk Director of Athletics
BELIEVE in the future of Athletics
We have a vision for the future of Gannon Athletics.
This vision includes fielding a complete lineup of programs, all of which compete at elite levels.
To achieve that kind of success, we will scour the world for student-athletes who strive for excellence not only in competition and the classroom, but also in their communities.
We will provide these student-athletes with the best coaching, training and academic support.
To allow them to reach their highest potential, we will assure that they can compete and train in state-of-the-art facilities, which will become a point of pride not only for current and future student-athletes, but also their families, as well the Golden Knights' many and loyal fans and supporters.
And it all begins with belief. Belief leads to action, and action leads to success. Thanks to your generosity, the future of Gannon Athletics can not only honor our great tradition of winning, but extend it for the next 100 years.
INSPIRE visionary change
Every day, we tell our student-athletes to dream big dreams, to take bold action. We invite you to do this too.
While every initiative at Gannon University is worthy of support, you can make your mark on the future of Gannon Athletics by supporting a program or project that is most important to you.
Whether by an endowment to fund a new program or facility, or a through a more general philanthropic contribution, your support of Gannon University's Next Century Campaign– through a contribution of any amount–really does make a powerful difference in the lives of current and future Knights.
Your gift is also an act of leadership that encourages others to give to the College. Through matching contributions offered by other grantmaking organizations, the impact of your generosity is powerfully leveraged.
TRANSFORM the Gannon experience
At Gannon University, we believe in the possibilities. As we enter our second century of leadership, the possibilities for Gannon Athletics include:
New home fields for Gannon's rising baseball and softball programs
A new playing surface and upgrades to the scoreboard and press box at McConnell Family Stadium
Construction of dedicated locker rooms to accommodate Gannon's more than 700 student-athletes in [19] varsity sports
Upgrades to existing aquatic sports facilities at the Carneval Athletic Pavilion
Establishment of a Life Skills/Academic Success Center
Endowed positions for coaches and administrators