College of Engineering and Business
Creating the Epicenter of Innovation
The College of Engineering and Business
At Gannon University's College of Engineering and Business, we are harnessing the power of innovation, technology, and entrepreneurship to impact the future.
Here you will find cross-disciplinary teams of students working together to ideate, design, test and build products that are then taken to market. The students on these teams move along the business continuum while gaining experience in their respective disciplines, making data-driven decisions while gaining confidence through exposure to employers. This dynamic process creates a mutually beneficial partnership between the University and the community.
In Fall 2020, the College of Engineering and Business welcomed 1,250 students from five continents, an increase of nearly 40 percent over the average enrollment of the preceding five years. This affirms the College's response to the business and technological challenges and opportunities of the 21st century.
Your support of Gannon University's College of Engineering and Business will ensure that this momentum is sustained as the University asserts its leadership position in teaching, learning, research, and community service.
We invite you to dream big and participate generously. Together there is no limit on what we can accomplish.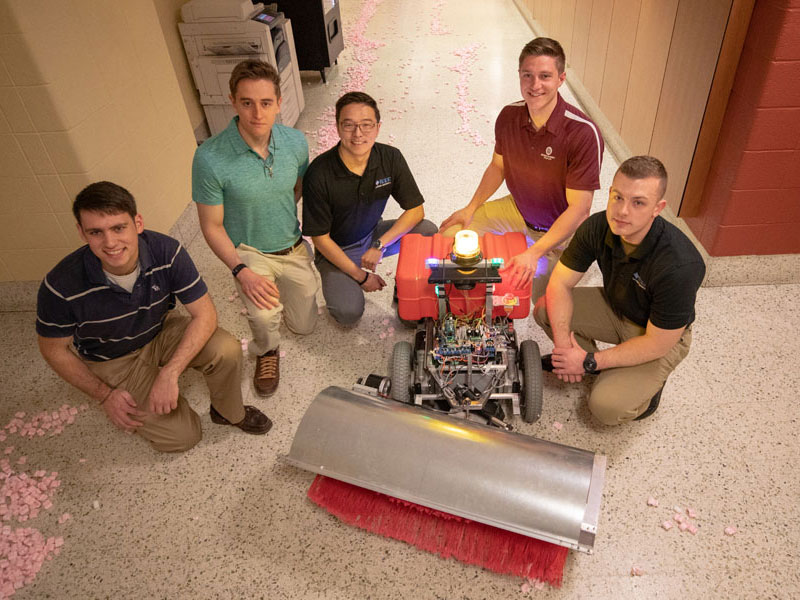 A Century of Momentum, A Century of Opportunity
Gannon University's first century has been marked by remarkable growth and continued strength. As we enter our second century, the support of donors like you who believe in our mission, inspire bold opportunities and transform the lives of those around them, can secure our success as a national University, and put an indelible mark on history. Every time the University has faced uncertainty, whether by pandemic, war or economic downturn, leaders like you have stepped forward to ensure the University's future. At the dawn of our second century, we invite you to join this select elite group of leaders.
With your help, we will raise $100 million to raise the profile of Gannon University's programs and people to national prominence.
Together we can build an outstanding future the way we've always done it – the Gannon way.
From Dean Karinna Vernaza, Ph.D.
What will the future look like at Gannon University's College of Engineering and Business? The new Institute for Health and Cyber Knowledge (I-HACK) is a good place to start.
Here, on the third floor, you'll find The Hatchery, a laboratory of innovation linking academic disciplines with corporate partners, and building and nurturing community relationships while fostering creativity.
Places like The Hatchery are where the opportunities of the 21st century will be created. It is where global connections will be made, and partnerships that benefit the student experience will be nurtured. It is where innovation and entrepreneurship intersect to foster the continuum from idea to prototype to launch. It is where our students gain experience to enhance workforce preparedness and career development.
It's where the future will be born.
The College of Engineering and Business has staked a decisive position at the nexus of technology, innovation and entrepreneurship. Through design projects, internships, and research projects our students become leaders—the leaders we will need to successfully respond to the challenges of the next century.
We appreciate your support of the College of Engineering and Business as we move confidently into the future.
This is the time for bold action. We know we can count on your assistance.
Thank you.
Karinna Vernaza, Ph.D.
Dean
BELIEVE in the future of the College
We have a vision for the future of the College of Engineering and Business.
This vision includes finding new collaborations between engineering, computing, and business such as our new MBA in Business Analytics. This program brings together analytics, technology and business fundamentals, expertise residing in both of our schools, to build effective leaders skilled in driving data-driven solutions to complex business issues. .
This vision is based on a model whereby students build community partnerships through working on real-world projects, often in collaboration with corporate, industrial and non-profit partners such as UPMC, Wabtec, L'Arche, United Way, and Zurn Industries Inc.
Through the College's affiliation with the Erie Technology Incubator, the NWPA Innovation Beehive and the Small Business Development Center, student entrepreneurs can explore and experience the start-up environment first-hand. These opportunities enhance the student education and demonstrate a sought-after skill, entrepreneurial thinking, to future employers.
These experiences and more are built on a foundation of academic excellence and delivered on an expanding urban campus that is a major driver of Erie's resurgent urban core.
Belief leads to action, and action leads to impact. Thanks to your generosity, the future of the College can be supported by a robust network of scholarships and endowments that ensure that students have the resources to obtain the best education possible and make their dreams a reality.
INSPIRE visionary change
Every day, we tell our students to dream big and to take bold action. We invite you to do this, too.
While every initiative at Gannon University is worthy of support, you can make your mark on the future of the College of Engineering and Business by supporting a program or project that resonates with you.
Whether by an endowment to fund scholarships in a discipline that was transformative in your life or through a more general contribution in support of the College, a philanthropic contribution to Gannon University's Next Century Campaign–of any amount–really does make a powerful difference in the lives of current and future Knights.
Your gift is also an act of leadership that encourages others to support the College. Through matching contribution offered by the many grantmaking organizations that support research and technology, the impact of your generosity is leveraged.
TRANSFORM the Gannon experience
At Gannon University, we believe in the possibilities. As we enter our second century of leadership, the possibilities at the College of Engineering and Business include:
Creation of a Center for Manufacturing Technology that will provide opportunities for students to interact with local companies and bolster the regional economy through transfer of innovative technological skillsets, contributing to economic growth
Enhancement of I-HACK's Hatchery,, an expanded makerspace and support for university-wide cross-disciplinary academic initiatives in addition to senior design
Expansion of student professional development funds to support career enhancing activities and certifications
Expansion of the newly created Autonomous Vehicle Laboratory that is conducting pioneering research
Support for the Business Information Systems Lab (BISL), Mobile STEM Lab, Geographic Information System (GIS) Lab, and Virtual Reality (VR) and Artificial Intelligence (AI) Labs
More extensive fellowship programs and scholarship opportunities to ensure access to education for students from diverse social and economic backgrounds and global students,
Expansion of our international academic partnerships such as the University's Dual Degree Programs with Esslingen University in Germany
"When I came to Gannon University from Germany, it was to get a top-flight business education that could put me on a fast track to success. Thanks to the analytical skills I learned as a triple major, I was able to work as a business consultant while pursuing my MBA, and assisted in securing $3.5 million in capital for my clients. Less than two years after graduation, I am in the C-suite of an investment firm. That's the power of a Gannon education."
- Richard Makowski, Chief Investment Officer, Evident Financial