College of Engineering and Business
Creating the Epicenter of Innovation
The College of Engineering and Business
For generations, corporate offices, research laboratories and entrepreneurial startups have looked to graduates of Gannon University's College of Engineering and Business to provide leadership and vision that has transformed the world.
Your support of Gannon University's College of Engineering and Business will help students to achieve their full potential, encourage excellence in teaching and learning and advance innovative research that will help us respond to the business and technological challenges and opportunities of tomorrow.
From our gleaming headquarters at 900 State Street to the cutting-edge Institute for Health and Cyber Knowledge (I-HACK) tower to the robotics laboratories at the Zurn Science Center, the students and faculty of the College of Engineering and Business are inventing the future.
We invite you to become a partner with them on their voyage of discovery. Together, there isn't anything we can't achieve.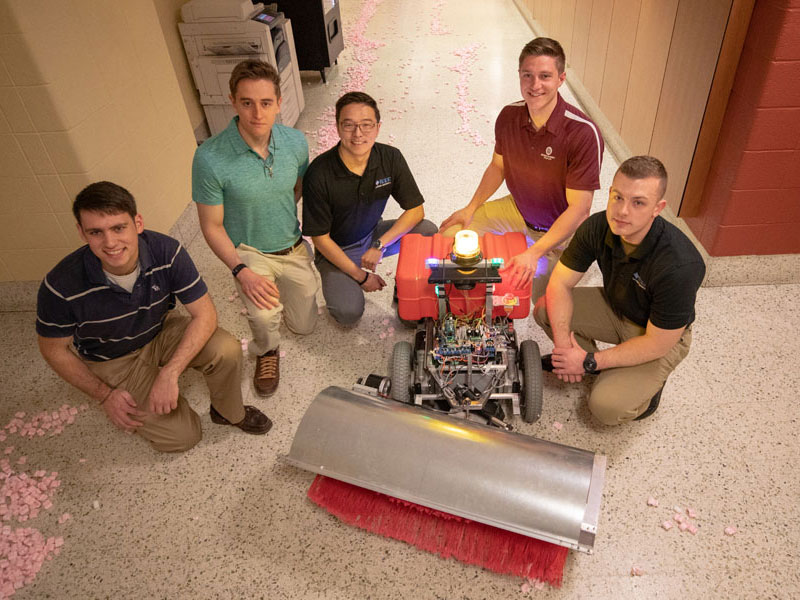 A Century of Momentum, A Century of Opportunity
Gannon University's first century has been marked by remarkable growth and continued strength. As we face the challenges and opportunities of our second century, the support of donors like you who believe in our mission, inspire bold opportunities and transform the lives of those around them can secure our success as a national University, and put an indelible mark on history. Every time the University has faced uncertainty, whether by pandemic, war or economic downturn, leaders like you have stepped forward to ensure the University's future. At the dawn of our second century, we invite you to join this select company.
With your help, we will raise $100 million to raise the profile of Gannon University's programs and people to national prominence.
Together we can build an outstanding future the way we've always done it – the Gannon way.
From Dean Karinna Vernaza, Ph.D.
For generations, graduates of Gannon University's College of Engineering and Business have been transformative leaders in corporate offices, research laboratories and entrepreneurial technology startups worldwide.
Today, on the threshold of Gannon University's second century of leadership, we have an opportunity to extend that footprint and to expand the influence of the University .
We're well on our way. The opening of the new Institute for Health and Cyber Knowledge (I- HACK) is emblematic of Gannon University's innovative claim on the exciting new territory where the life sciences meet design and technology enabled by analytics and entrepreneurial management practices.
This is precisely where the opportunities of the 21st century are created and the College of Engineering and Business has staked a decisive position at the nexus of these disciplines. The excitement of this bold new venture is attracting students and faculty from every continent. Won't you be a part of the momentum we are building?
Let's accelerate that momentum and continue the creation of something that is truly visionary.
Thank you.
Karinna Vernaza, Ph.D. Dean
BELIEVE in the future of the College
We have a vision for the future of the College of Engineering and Business.
This vision includes finding new collaborations between engineering and business to unleash the synergies between the two related and increasingly convergent disciplines.
By assembling a faculty that is recognized internationally for excellence, we can guarantee a transformative student experience as well as opportunities to do groundbreaking research that will change lives and contribute to the prosperity and well-being of our communities, both locally and globally.
This experience will be built on a foundation of academic excellence and delivered on an expanding urban campus that is a major driver of Erie's resurgent urban core.
Belief leads to action, and action leads to impact. Thanks to your generosity, the future of the College can be supported by a robust network of scholarships and endowments that ensure that students have the resources to obtain the best education possible and make their dreams a reality.
INSPIRE visionary change
Every day, we tell our students to dream big dreams, to take bold action. We invite you to do this too.
While every initiative at Gannon University is worthy of support, you can make your mark on the future of the College by supporting a program or project that is most important to you.
Whether by an endowment to fund scholarships in a discipline that was transformative in your life or a through a more general contribution in support of the College, a philanthropic contribution to Gannon University's Next Century Campaign–of any amount–really does make a powerful difference in the lives of current and future Knights.
Your gift is also an act of leadership that encourages others to give to the College. Through matching contribution offered by the many grantmaking organizations that support research and technology, the impact of your generosity is powerfully leveraged.
TRANSFORM the Gannon experience
At Gannon University, we believe in the possibilities. As we enter our second century of leadership, our goals will transform the College of Engineering and Business and advance our tradition of leadership in business and engineering education and research to position us among the top schools in the United States. We will leverage our strong foundation to become a global leader in emerging disciplines as we address the challenges of the future.
Establishment of a new senior design experience that brings faculty and students together for a yearlong multidisciplinary entrepreneurship intensive that takes a product from design to patent to market
Expanded facilities at I-HACK's Hatchery to support the senior design experience, a maker space and innovative multidisciplinary initiatives
Establishment of a Center for Analytics and Management that will incorporate research, student employment and outreach activities
Support for the SEEKs Program that pairs engineering expertise with an area nonprofit
Creation of an endowed position for Innovation and Creativity
More extensive fellowship programs that will ensure access to education for students from diverse social and economic backgrounds
"When I came to Gannon University from Germany, it was to get a top-flight business education that could put me on a fast track to success. Thanks to the analytical skills I learned as a triple major, I was able to work as a business consultant while pursuing my MBA, and assisted in securing $3.5 million in capital for my clients. Less than two years after graduation, I am in the C-suite of an investment firm. That's the power of a Gannon education."
- Richard Makowski, Chief Investment Officer, Evident Financial