Morosky College of Health Professions and Sciences
Responding To the National and Global Challenges of Today and Tomorrow
The Morosky College Of Health Professions And Sciences
Gannon University's Morosky College of Health Professions and Sciences is a recognized leader in research and education. With 2,100 students on campuses in Erie and Ruskin, Florida, it is the largest of the University's colleges, and given the exceptional demand for qualified health professionals and scientists, that enrollment could easily be much larger if only we had sufficient faculty, classrooms and laboratories to accommodate them.
This is where you come in. You have within your power the ability to help Gannon University to take a big step forward from regional leadership to national prominence.
This is not an insignificant goal, but consider how far we have progressed and what we have already accomplished. We invite you to dream big and participate generously. Together, there is no limit on what we can accomplish.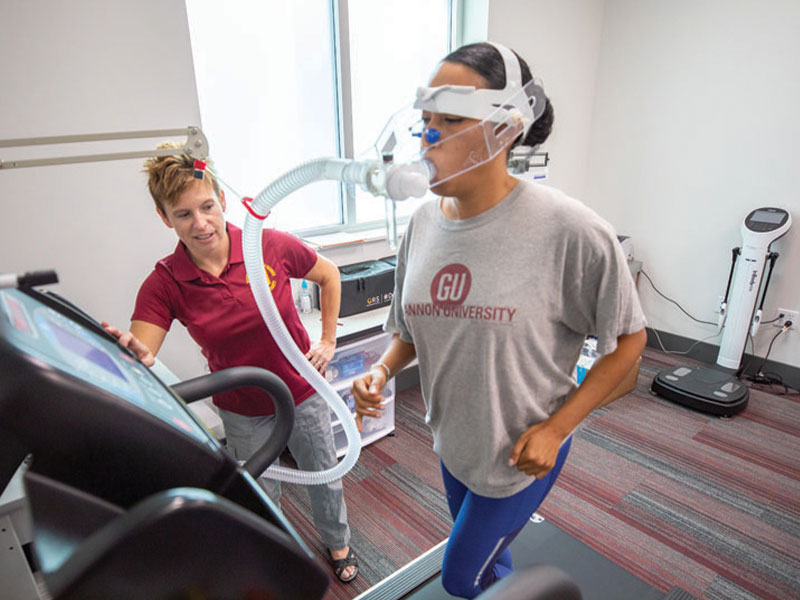 A Century of Momentum, A Century of Opportunity
Gannon University's first century has been marked by remarkable growth and continued strength. As we face the challenges and opportunities of our second century, the support of donors like you, who believe in our mission, inspire bold opportunities, and transform the lives of those around them can secure our success as a national University, and put an indelible mark on history. Every time the University has faced uncertainty, whether by pandemic, war or economic downturn, leaders like you have stepped forward to ensure the University's future. At the dawn of our second century, we invite you to join this select company.
With your help, we will raise $100 million to advance Gannon University's programs and people to greater heights of impact and influence.
Together we can build an outstanding future the way we've always done it – the Gannon way.
From Dean Sarah J. Ewing, Ph.D.
The events of 2020 provided an urgent reminder of the need for highly trained health practitioners and scientists to respond to current challenges and to provide solutions for future challenges yet unseen.
As the University's largest college, the Morosky College of Health Professions and Sciences is poised to extend its reach and broaden its scope. The strategic plan for the College calls for:
Promoting initiatives that help address health and scientific needs of a global society – including expansion of our pro-bono based rehab clinics, student experiential learning opportunities and innovative ways to respond to community and healthcare needs.
Strengthening programs in the sciences – including addition of a graduate program in biology and replacement and increased utilization of the Environaut, the University's 48-foot-long research vessel, one of only two on the Great Lakes.
National recognition and prominence – With campuses in Erie and Ruskin, Florida, the College is recognized as a regional leader. This is gratifying, but we aspire to assume an even greater role.
These are significant goals, but well within our reach. This is the time for bold action.
Won't you help us reach our goal and set a standard of excellence that will be an inspiration for the next 100 years?
Thank you.
Sarah J. Ewing, Ph.D. Dean
BELIEVE in the future of the College
We have a vision for the future of the Morosky College of Health Professions and Sciences.
This vision includes opening new opportunities for students from diverse backgrounds to enter and succeed in challenging and in-demand STEM and healthcare disciplines.
We will extend our tradition of technological leadership including the use of innovative training tools such as patient simulation, and outstanding faculty scholarship strengthened by the establishment of endowed faculty positions.
These activities will be nourished by the creation of new networks of community partnerships that will both enhance student learning and deliver tangible benefits to the communities we serve.
Belief leads to action, and action leads to impact. Thanks to your generosity, the future of the College can build on an outstanding record to achievement to become a nationally prominent destination for students and faculty of distinction.
INSPIRE visionary change
Every day, we tell our students to dream big dreams, to take bold action. We invite you to do this too.
While every initiative at Gannon University is worthy of support, you can make your mark on the future of the College by supporting a program or project that is most important to you.
Whether by an endowment to fund scholarships in a discipline that was transformative in your life or a through a more general contribution in support of the College, a philanthropic contribution to Gannon University's Next Century Campaign–of any amount–really does make a powerful difference in the lives of current and future Knights.
Your gift is also an act of leadership that encourages others to give to the College. Through matching contribution offered by the many grant making organizations that support education, STEM, health sciences, and community health, the impact of your generosity is powerfully leveraged.
TRANSFORM the Gannon experience
At Gannon University, we believe in the possibilities. As we enter our second century of leadership, the possibilities at the Morosky College of Health Professions and Sciences include:
Advancing our patient simulation capabilities and delivery of clinical education through advanced technology at the Erie and Ruskin campuses.
Expansion of pro-bono clinics, especially in the rehabilitative sciences where Gannon has a clear leadership position
Establishment of scholarship programs that will ensure access to STEM education for students from diverse social and economic backgrounds
Leading dialogue between faith and reason by expanding our role as an interdisciplinary leader in biomedical ethics