Project NePTWNE and Environaut
MEASURE. MITIGATE. MANUFACTURE.
Gannon University is committed to its long history of aquatic research, education and outreach. This is demonstrated through our emerging initiative regarding lake health. This effort aims to reconcile the environment with the economy to preserve and steward our Lake Erie while simultaneously responding to community needs and growing the economy through job creation.
Project NePTWNE takes an inclusive and holistic approach to addressing water quality, climate change, economic development, and quality of life. A major factor impacting water quality and ecological health is the presence of microplastics in waterways. Measuring and removing these pollutants, along with developing new solutions to prevent the pollutants from ever entering the water must be a priority for our region.
As more pressure is placed on access to bodies of fresh water and fresh foods, including fish, it is imperative that as a region we are informed, engaged and positioned to respond to threats and opportunities to maintain quality drinking water and ensure the public and economic health of our community.
Project NePTWNE, which is short for Nano & Polymer Technology for Water and Neural-networks in Erie, is designed to address these concerns in six phases.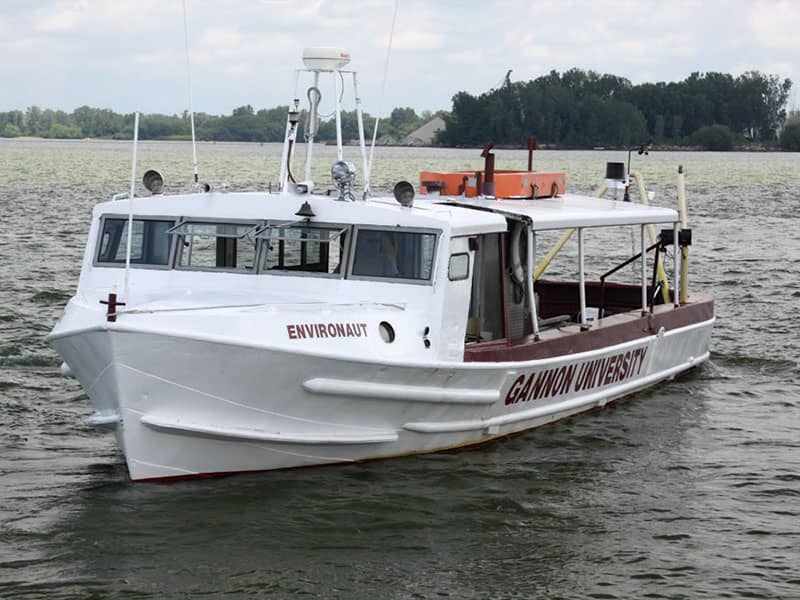 ENVIRONAUT
The University's proximity to Presque Isle Bay and Lake Erie makes the Environaut a truly natural fit for Gannon. This 48-foot vessel is widely used by students in Gannon's environmental science program as well as students in biology, limnology, zoology and field ecology classes. It is equipped with technology necessary for enhanced research capabilities, including radar, sonar, winched booms and an underwater camera, a generator and an enclosed laboratory. The Environaut provides students with practical, hands-on training and field work that complements classroom learning, enabling students to inspire solutions to environmental challenges.
The original boat is 67 years old and needs replaced. Funding will support this as well as enhance the program and classrooms and research laboratories where students can record their findings.