Through the Barker Globalization Institute, Gannon offers an array of travel abroad program options in more than 30 countries with more in development every semester. Students can pursue credit-bearing or experiential, service-based travel opportunities through the Learning Abroad Program or Center for Social Concerns and Global Exploration.
Learning Abroad
The Office of Learning Abroad offers international, credit-bearing experiences for students of every major.
Through the Gannon-Inspired Faculty-led Travel courses, students apply concepts learned during their course and develop cultural competencies in a meaningful travel experience. Students can also pursue a Semester Exchange with one of Gannon's partner universities in Australia, Chile, England, France, Germany, Ireland, Italy, New Zealand or Spain. Summer Study Abroad options are offered through our partner universities or affiliate partners worldwide and satisfy Liberal Studies Core requirements and/or major and minor requirements. Students can pursue International Credit-Bearing Internships around the world in partnership with CISabroad to obtain experiences related to their major and career goals.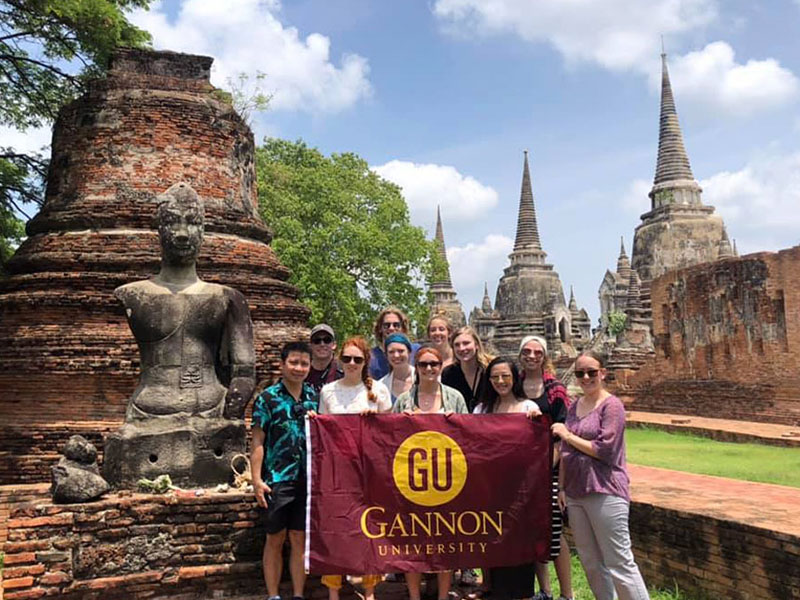 Center for Social Concerns and Global Exploration
Founded in 1988 and inspired by Catholic Social Teaching, the Center for Social Concerns and Global Exploration equips students and campus colleagues to engage with Gannon's local and global communities through purposeful service, exploration and action for the common good.
Through Alternative Spring Break Service Trips, students respond to some of the most pressing societal and global concerns of our time through trips built on foundational pillars of service, community and reflection. Student leaders and groups cultivate community through relationship building, learning and meaningful dialogue prior to and during trips. Through Transforming Residents Abroad Via Engaged Learning, student groups and employee facilitators spend an academic year building relationships, developing intercultural competencies, and studying topics prior to traveling to a domestic or international destination where students discover increased self-awareness and encounter diverse perspectives and relationships.